Merry Breed, Manager of Claude Moore Park in Sterling, Virginia, always enjoyed sharing her love of nature with children. When she unexpectedly passed away in 2016, the Friends of Claude Moore Park established a scholarship in her honor so that children of limited income would have the opportunity to experience summer camp at Claude Moore Park.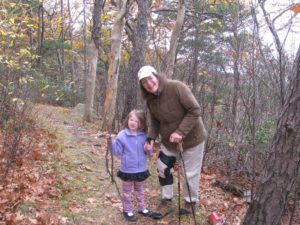 At camp your child will spend a week outdoors, exploring nature with other children their age. Camps will be led by experienced Naturalist Instructors. Campers will get a chance to walk the park's trails, look for animals around the ponds and discover shells, feathers, rocks and more in the nature center. During the day there will be time for a snack, and lunch for the longer camps.  All camps will include crafts, activities and games associated with the theme of the camp. The children will have free time to play with other campers and enjoy nature. Indoor spaces will be available for a break from hot days or rainy weather.
Programs are available for Preschoolers (ages 4 to 6 from 9am-12pm) and Elementary School students (ages 7 to 14, from 9am-4pm). 
Child care (before camp) is available for children attending the Elementary and Middle School camps beginning at 8am and can be covered by the scholarship as needed.
Each camper may attend one camp this summer on this scholarship. Siblings are welcome to apply.
Applicants with complete applications who meet the correct age/grade qualifications will be awarded scholarships on a first come, first served basis. A maximum of 10 scholarships will be awarded.
CLICK HERE FOR CAMP SCHEDULE
CLICK HERE TO DOWNLOAD SCHOLARSHIP APPLICATION. Mail completed application to Friends of Claude Moore Park, 21544 Old Vestal's Gap Road, Sterling, VA 20164 or email it to claudemoore@loudoun.gov  
CLICK HERE FOR ONLINE SCHOLARSHIP APPLICATION
CLICK HERE FOR REGULAR CAMP APPLICATION AND CAMP AVAILABILITY (SELECT type=camp, location=Claude Moore Park and then CLICK SEARCH)